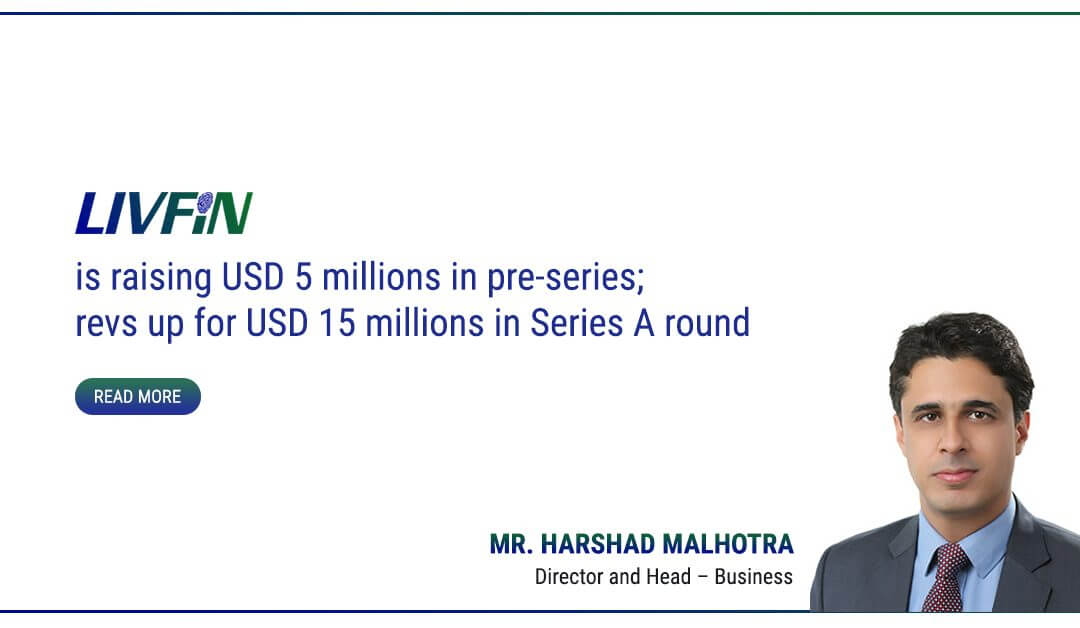 LivFin revs up for USD 15m Series A; Receptive to Appointing a financial advisor
LivFin, a Gurgaon, India-based digital lending non-banking finance company (NBFC) focused on supply chain financing, is set to kickstart Series A of up to USD 10m-USD 15m by October this year. The company is looking to sell a minority stake, said Harshad Malhotra, Director & Head – Business, LivFin.
The company aims to close the fund raise in the next 12 months and intends to appoint a financial advisor. It is receptive to initiating discussions to this end, he said.
The company is also in the midst of closing a USD 5m pre-Series A round by August, he said, adding that it is in talks with a fund backed by the European Sovereign Fund.
LivFin will leverage the funding from both raises for onward lending purposes and the technological development of its platform, Malhotra said. The company will be receptive to financial investors for its Series A fund raise.
Presently, LivFin lends from its own book. It provides invoice-based short-term loans with a maturity of 30 to 180 days to help businesses address their working capital needs. Since its inception, the company has added various industry verticals such as energy, IT distribution, IT peripherals, logistics, car accessories and automation, agriculture, and e- commerce players to its portfolio.
It provides tailor-made financing solutions for MSMEs covering the entire value chain including distributors, dealers, and vendors. The company lends to enterprises with a turnover of INR 3bn to INR 35bn.
The company closed FY19 with INR 1bn in Assets Under Management (AUM), and it is aiming to garner INR 4bn in FY20 and INR 8bn in FY21, he said.
The firm is also considering co-lending options and is presently holding discussions with two large NBFCs and a large bank to this end, he said.
Malhotra added that government's efforts to build equity for NBFCs will give a huge boost to their business. Highlighting investor interest in NBFCs, he said that there was skepticism for some time post the IL&FS incident, however, supply chain financing is a safe portfolio for investors.
He noted that there could be M&A activity with lot of small NBFCs mushrooming and being potentially acquired by a bank or bigger NBFC. LivFin does see itself as a potential target in the mid-to long-term.
The company has a 28-member team and is seeking to be profitable in the next 12 months. It does not have any immediate competitor in India.
According to Malhotra, the supply chain financing market is around USD 20bn-USD 25bn. He added that there is lot of scope for other NBFCs to enter the industry.