Sales Invoice Financing
Sales invoice financing is a financial vehicle that allows small business owners to raise capital by collateralizing their client-approved invoices.
Most commercial supply contracts have an extended due date in order to account for delays in delivery, working capital shortage or other policy reasons. However, most often, the goods or services get delivered on or before the contract deadline, which in turn creates a working capital or cash flow gap for the supplier. The supplier is left with a client-approved invoice for the delivery of the promised goods or services and no money. This waiting period between the actual fulfilment of the supply contract and the due date for receiving payment is detrimental for the growth of small businesses. For instance, if the supplier receives a new contract from the same or different buyer during this period, his enterprise may not be able to service the order because of the lack of funds.
Our invoice finance solutions helps businesses get out of working capital shortage or cash flow crunch by facilitating quick business loans in lieu of their client-approved invoices.
How sales invoice financing works?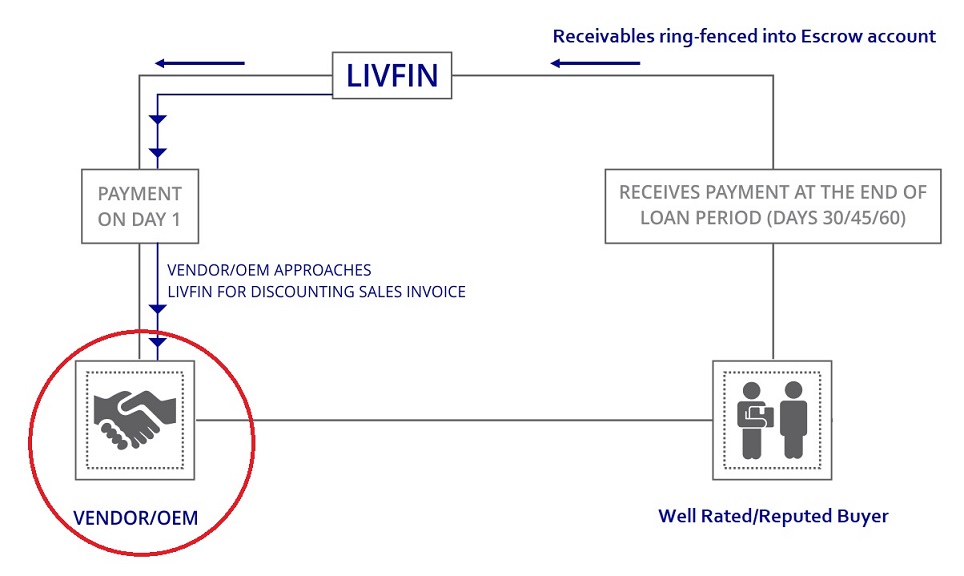 A business that supplies goods and services for commercial clients/manufacturers approaches a non-banking financial company like LivFin for facilitating sales invoice financing. After surveying the company's past credit repayment records and the credibility of its commercial customer, the NBFC approves the business loan in lieu of the client-approved invoice held by the business. The finance value is generally between 80 to 100 per cent of the total invoice value.
Once the invoice due date arrives, the business receives the money from its commercial customer and uses it to repay the very short-term business loan extended to it by the lender.
How sales invoice financing can be advantageous for your business
Sales invoice financing facilitates the acquisition of quick, unsecured business loans for working capital management and cash-flow stabilization. Your business does not require a stellar credit score to get this loan, as the risk-factor is usually from the client side. So, if you have a credible commercial trading partner, the sales invoice financing company will not hesitate to grant credit to your business credit. A fee is charged for providing the very short-term, small ticket finance by the lender. However, this fee is usually lower than bank financing and even purchase invoice financing, since the lender does not manage the credit account for you.
LivFin offers sales invoice financing in India, allowing small and medium businesses to raise capital through their unpaid invoices.
Here is how it works,
A small business owner raises an invoice with a commercial client for approval.
The business then shares the client-approved invoice with LivFin.
LivFin does due diligence and disburses up to 100 per cent of invoice value as a very short-term business loan.
The small business repays the loan on the due date as the invoice is cleared by the client.