Purchase Invoice Finance:
Purchase invoice financing is a method of business finance that allows small and medium business owners to fill new purchase orders through early payment of approved invoices.
Most small and medium businesses in India operate on very tight cash-flow margins. Sometimes, the existing cash at hand or bank is simply not enough for covering a business's operating needs. If new orders are received during this period, the business owner may fail to service them as the business simply cannot afford the cost of production and supply. Turning down a client not only means loss of revenue but also implies a loss of goodwill in the market. Hence, having a source of business finance is imperative for every SME working with commercial clients.
Here LivFin's invoice finance services comes into play to help out a business owner in the need of immediate cash.
How does purchase invoice financing work?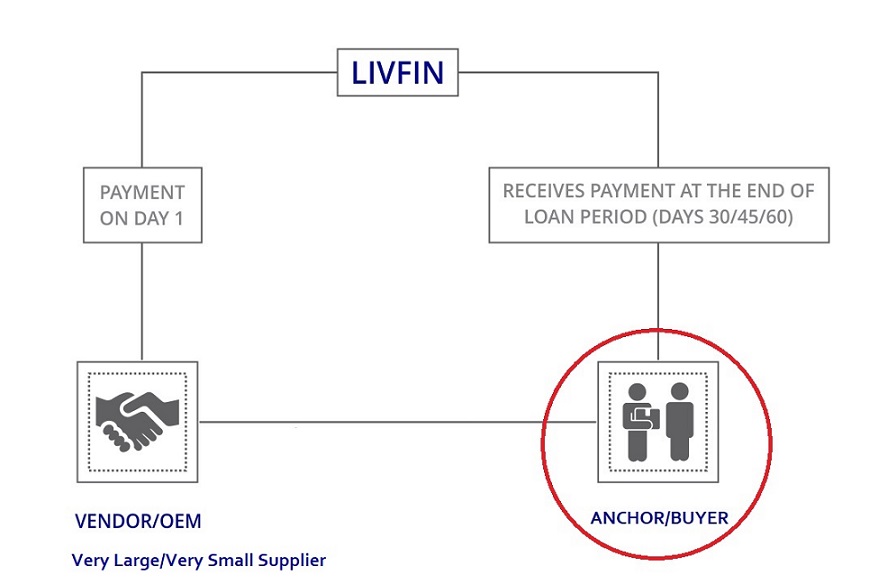 Once a small business fulfils its obligations under the contract to supply goods or services and collects the invoice, a purchase invoice financing company steps in. Depending upon the credibility of both parties, the purchase invoice financing company can fund up to 100 per cent of the invoice value to the supplier of the goods or services. The purchase invoice financing company will also charge a small fee which is deducted from the amount disbursed to the invoice holder.
The purchase invoice now becomes the responsibility of the purchase invoice financing company, to be collected on or before the due date.
How purchase invoice financing can be advantageous for your business
As opposed to bank financing, it is very easy to qualify and get approval for purchase invoice financing. Purchase invoice financing is mostly based on the credibility of your customer and hence does not impose stringent credibility terms on your enterprise. Hence, you can get a business loan without stellar credit rating through this method of commercial financing. The only caveat here is that purchase order financing is done for commercial customers instead of individual buyers.
Purchase invoice financing with LivFin allows you and your customers or suppliers to grow independent of each other.
Here is how it works,
Both parties, the supplier/s and the commercial buyer, approach LivFin for purchase invoice financing.
Once the agreement is in place, the commercial buyer shares the invoices approved for payment with LivFin.
The supplier/s pick and choose the invoices for early payment.
LivFin advances the payment for invoices to the supplier/s as a business loan, charging a fee.
The commercial buyer pays the invoices on the due date, hence settling the debt.
Therefore, purchase invoice financing allows both parties to manage their working capital and streamline the cash inflow and outflow.